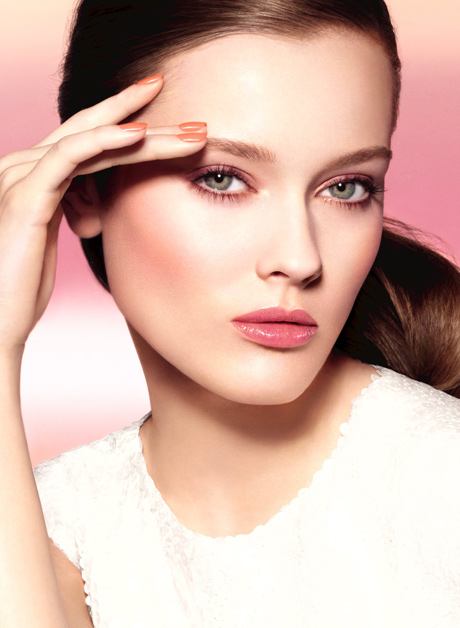 Chanel
Hello everyone :)
I was thinking today that since my last makeup trends post had so many views, i decided to do another one for spring and summer 2012 since you seem really interested in that!
So...
Overally, from what i've seen from runways and fashion magazines, this spring there are more light colors, sorbet shades and neon ! I haven't seen any florals thankfully. (
Here for fashion trends
)
What about makeup?
Again two choices: Natural pastel makeup or Vibrant colors
Either one is trendy.
1.
Monochromatic makeup
. Yes you saw that coming! Same colors all over the face, ok just don't go all coral crazy.
2.
Flushed Cheeks.
I really like this one. This spring/summer the attention is on the cheeks and lips and not so much on crazy smokey eyes and eyeliner.
I go bright bubblegum pink!
Ideal coral: MAC Morange Lipstick
3.
Coral Lips.
Coral seems to be keeper the past years.
4.
Gold Eyes
(self-explanatory) with muted lips, no crazy lipstick here.
5.
Bold Vibrant Lips
Go crazy on lipstick this spring and summer! Pink, coral, orange, peach anything, even red (which is classic).
6.
Bright Eyeshadow:
Emerald, gem colors, shimmery or matte with light
lips.
The Nude Face
7. Soft eyes and flirty look: Not so much eyeliner ladies. Less is more. Try defining you eyes with dark eyeshadow as close to the lashline as possible or tightline. No crazy wings.
8. The Nude face: My favorite! Again, you can't go wrong with a neutral and a no makeup makeup!
Peachy lips and cheeks, some neutral shadows and you are good to go. Spring's nude face is not like winter's. We don't want that pale complexion, but a glow in the face. Must haves for this look: cream/liquid highlighter, cream blush and brown/black mascara.
So do you like these spring/summer trends? Which would you go for?
Kisses
Anastasia